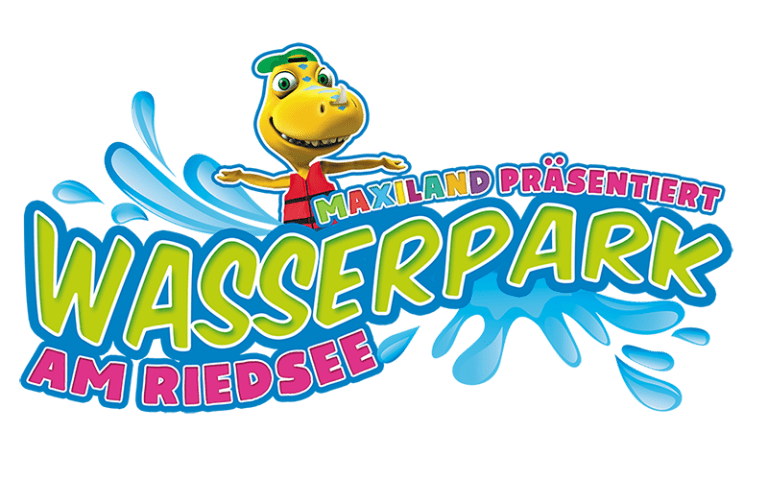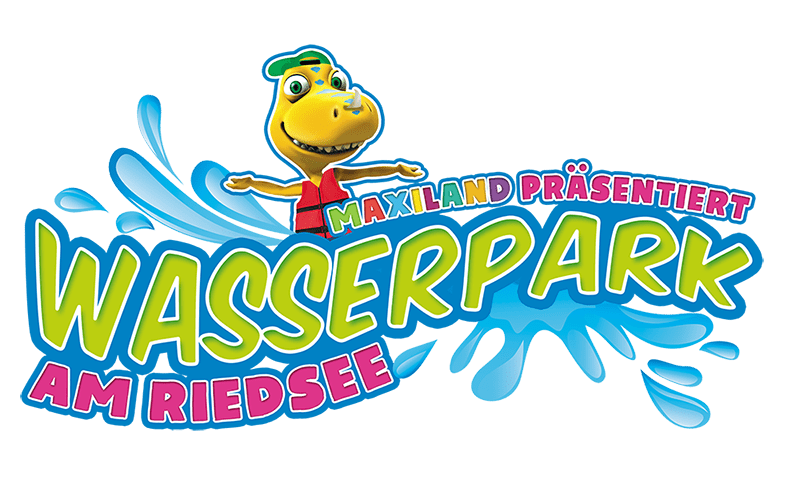 From 17 June 2023 daily open for you!
Water park at the Riedsee (bathing lake)
Aquapark at the swimming lake near Frankfurt am Main / Hesse
Fun, sports and adventure lovers meet here. The water area offers plenty of space for all kinds of water attractions. The perfect place to enjoy hot summer days!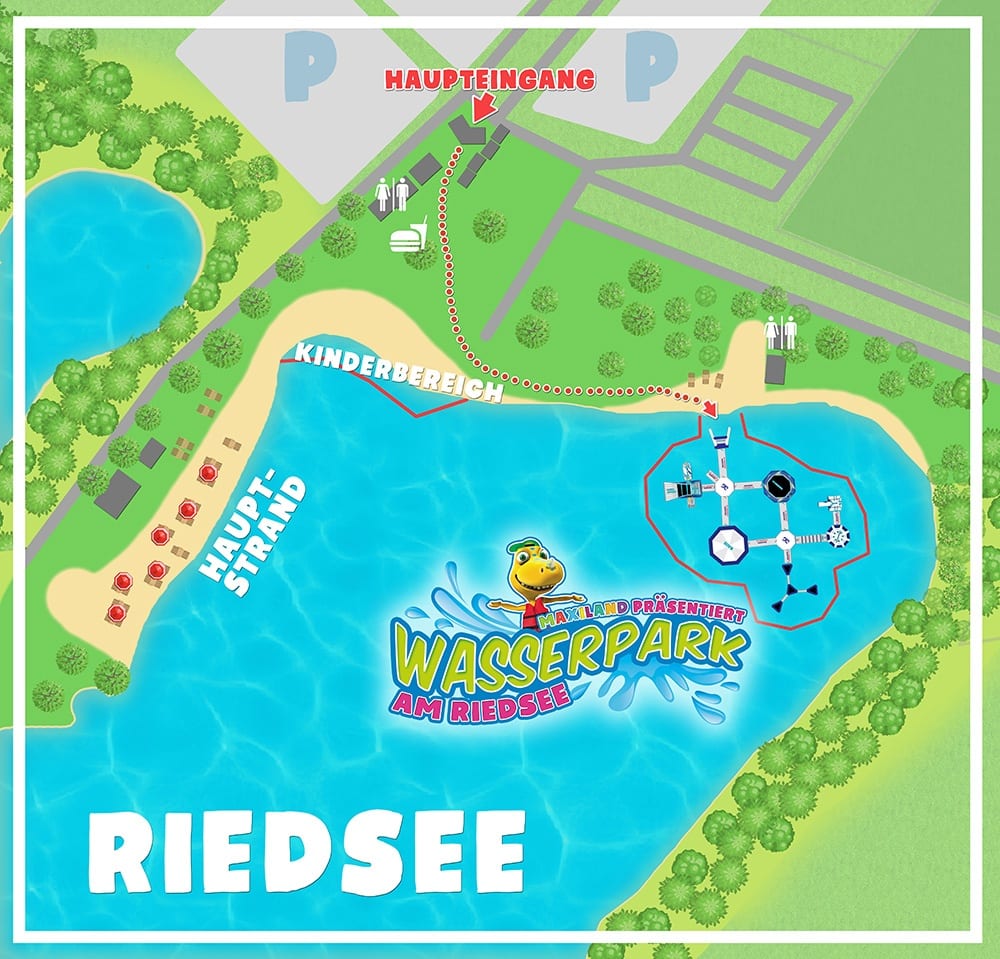 Opening hours:
Daily from 2 to 7 p.m.
Sat/ Sun/ Holidays: 10 a.m. to 7 p.m.
During summer vacations (22.07 - 03.09)
Daily 10 a.m. to 7 p.m.
At the reed lake 1
64560 Riedstadt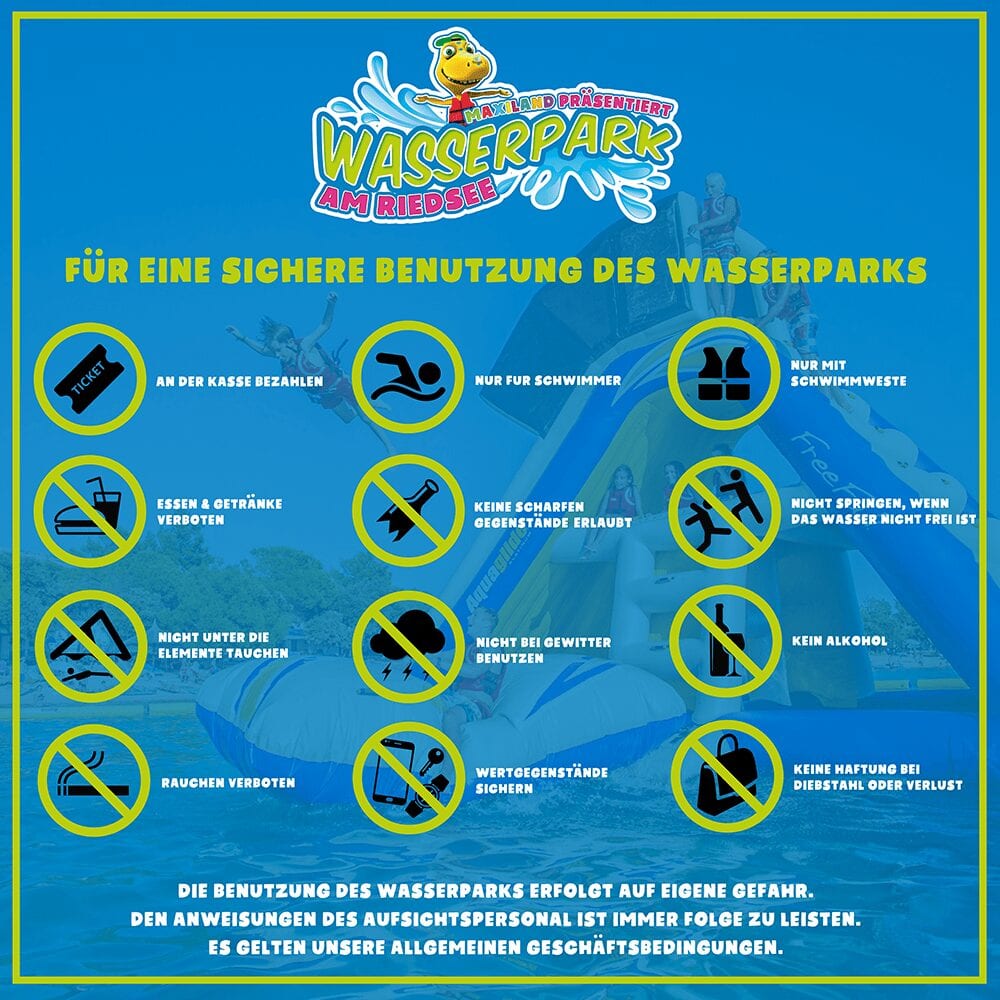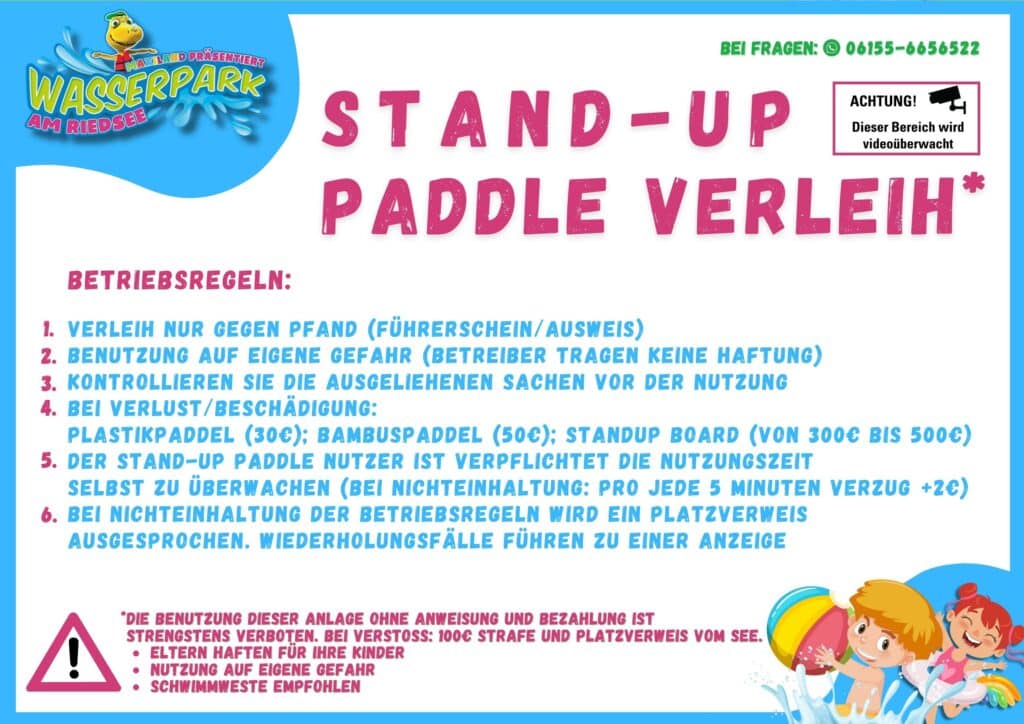 The water park at the Riedsee - adventure pool at the bathing lake near Frankfurt
What to do on a hot summer day when you're looking for the ultimate cool down but don't feel like the same swimming pool experience over and over again?
Visit our water park at the Riedsee. Our aqua park on the Riedsee bathing lake near Frankfurt offers plenty of action and fun with its 2,000 m² action area. With the visit of our fun pool located in the bathing lake Riedsee in Hesse you combine an action trip with the refreshment in cold wet.
Whether small or large, young or old, everyone has fun at our water park. We promise you, the journey is worth it for this unique adventure pool in the Rhine-Main area.
The course through the swimming lake Riedsee near Frankfurt
On 2,000 m² different modules offer varied water fun. Take the challenge and try to run through the course of our water park in the beautiful lake near Frankfurt once without falling into the water. Or enjoy the refreshing water and plunge into the floods at each of the elements of the aqua park.
What is certain is that it requires skill and fitness to balance and keep your balance on the slippery and wobbly floor of our aqua park. But the challenge brings the great fun. In addition to climbing opportunities, a large slide and running elements between the modules, there is also a large trampoline that you can use to launch yourself directly into the Riedsee (Hesse).
So pack your swimwear and head to your water park at the Riedsee swimming lake near Frankfurt.
More than just a bathing lake: an adventure pool near Frankfurt
Swimming pools and adventure pools are a dime a dozen in the Rhine-Main area. But an aqua park in the middle of a lake in Hesse like our outdoor water park at the Riedsee near Frankfurt is a rarity in the Rhine-Main region.
Other fun pools with slides are mostly indoor pools, which is why the summer feeling doesn't really come up at all. Our water park, however, is located in a bathing lake, which is why you take both an outdoor experience and a nature experience with you when you visit our aqua park in Hesse. On a hot day, you can't imagine anything better than dropping into fresh lake water.
Unique in the Rhine-Main area: Action in the water park
A water park of this size is a rarity in the Rhine-Main region. That is why we are pleased that so far not only visitors from Darmstadt, Bensheim or Mainz have been guests at our water park.
Bathers from Frankfurt, Wiesbaden, Bad Kreuznach, Worms and Mannheim also make their way to this beautiful place in Germany, our fun-filled water park.
For your next outing in Hesse, strap on your life jacket and let the climbing, sliding, balancing and bouncing begin at the aqua park near Frankfurt.
Questions and answers about the water park at Lake Ried
How to get there: How can I reach the water park from my city in the best possible way?