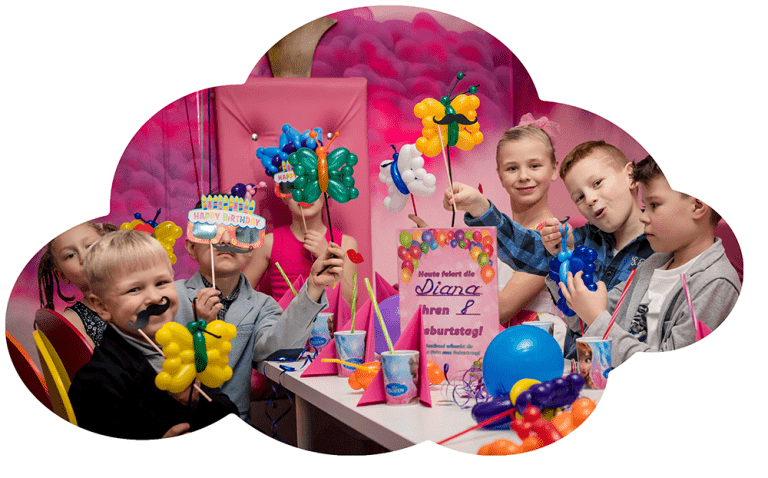 Children birthday party in Darmstadt
Celebrate unforgettable birthday in Maxiland
Birthdays are celebrated in our themed birthday lounges.
You have the choice between different designed rooms:
For invitation cards click on the lounge!
You have the choice to rent a birthday lounge:
Monday to Friday
3 to 7 pm
Saturday / Sunday / Holiday / Vacation:
Morning: 10 am to 2 pm | Afternoon: 3 pm to 8 pm
Please note that the arrival times are fixed.
We ask you not to come earlier.
Book now birthday in Maxiland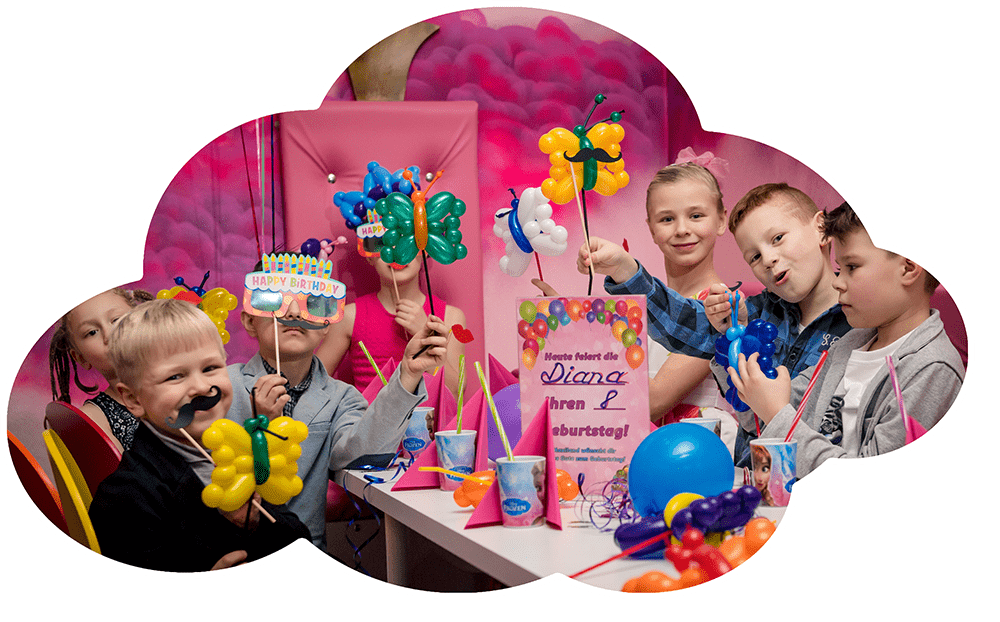 After receipt of your booking we will check the availability of your appointment and confirm it by e-mail.
Celebrate children's birthday in Darmstadt-Griesheim
Your child's birthday is a very special day. For weeks before, your child looks forward to the big celebration with friends, gifts and cake. Therefore, the big day of your child should also be unforgettable.
We at Maxiland, the action-packed indoor playground in Darmstadt-Griesheim, would like to give your child this wonderful day. Leave the preparations to us and forget all the stress that a child's birthday often means. We will organize the birthday party for your child and make play and fun dreams come true in Darmstadt.
Our birthday lounges in Maxiland Darmstadt
Celebrate your child's birthday in one of our 8 birthday lounges. You can choose between different themes according to your child's preferences. Whether Minions, Star Wars, Arielle or our other birthday lounges - we are sure to meet your child's taste with our atmospherically decorated birthday lounges in the indoor playground in Darmstadt.
Your child wants the birthday in the indoor playground under a soccer motto? No problem, we have a cool soccer lounge for the little fans of the grass sport. Or is your child enthusiastic about buccaneers? Book our lovingly decorated pirate lounge and set sail. This way, the children's birthday can also be celebrated individually and according to your own taste in the indoor playground in Darmstadt.
Print indoor playground birthday invitation by yourself
We have also prepared for you individual invitations matching our birthday lounges. Simply select the appropriate invitation for your birthday lounge and print it out quickly and easily at home. You then only have to fill them out individually.
So the little guests of your birthday child already know what to expect when they receive the invitation to the birthday in the indoor playground. But we are convinced that the expectations will even be exceeded. With our versatile attractions, lots of fun and exercise as well as a delicious birthday meal, your birthday party in our indoor playground in Darmstadt will be a highlight for young and old.
So the children's birthday party becomes a real highlight - our additional offers for the children's birthday party in Darmstadt-Griesheim
Celebrating the birthday in the indoor playground with numerous attractions is already one way or another an unforgettable birthday pleasure. The many exciting attractions in Maxiland Darmstadt-Griesheim will take your child into a world full of action, movement, play, fun and joy.
But to offer your child even more excitement and fun on his birthday than on an ordinary day in our indoor playground in Darmstadt, we have some great extra highlights for you.
From face painting for kids to a visit from a balloon wizard to an outrageous limo service. By adding one of these fantastic offerings, you'll really spice up your child's birthday party. Best of all, it won't cause you any work or stress.
We also offer you a lot of fun at home: With our
MAXImobil
we bring a piece of Maxiland to your home.
Our offers for your children's birthday party
In addition to choosing a birthday lounge tailored to your child's interests, you can also choose from a variety of dino-themed offerings when celebrating a birthday at Maxiland Darmstadt-Griesheim.
From mini to luxury offers, there is something for everyone. All our offers include admission to our indoor playground in Darmstadt-Griesheim, a refreshing drink and a token. Thus, the culinary catering is ensured regardless of the choice of offer and with a token for each child, the fun is even greater.
Already from a number of participants of 7 children
There's always a lot going on at children's birthday parties. Your child would ideally like to invite everyone, or at least lots of friends, to celebrate together on his or her birthday. While it can be very cramped at a large birthday party with lots of children playing at home or such a celebration is even completely impossible, space problems play no role at all with us in the indoor playground in Darmstadt-Griesheim.
Our birthday lounges offer space for a large birthday party and even more room for exuberant jumping, running, climbing and playing. With delicious food, refreshing soft drinks and atmospheric decorations, the birthday boy or girl can be high-fived by all their guests.
Do I have to bring anything to the indoor playground in Darmstadt for my birthday?
Apart from a good mood, the required socks and, if necessary, a birthday cake, you don't need to take anything with you when you visit Maxiland in Darmstadt-Griesheim. Culinary you can be provided with us in the indoor playground, so you do not need to think about anything.
On the contrary, you will take something with you when you return home after the birthday party in the indoor playground Darmstadt: a happy birthday child, lots of good humor from an action-packed and varied day, and the satisfaction of having given your child an unforgettable birthday.
What belongs to every birthday? Of course, the birthday cake!
The classic on every birthday table is of course the birthday cake or the birthday cake. Of course, this must not be missing at the celebration in the indoor playground Maxiland in Darmstadt. So feel free to bring your cake or cake to the birthday party in one of our birthday lounges.
However, we would also like to point out at this point that only bringing the birthday cake to the celebration in the indoor playground Darmstadt is permitted. Bringing other food, snacks or drinks is not allowed in Maxiland Darmstadt-Griesheim.