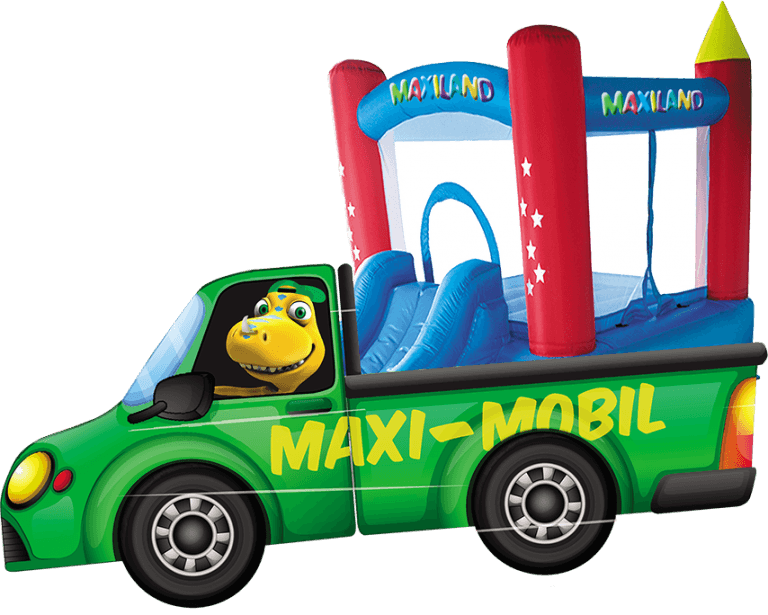 The Maxi-Mobile brings a piece of Maxiland to your home in summer (May - September)
Bouncy castle rental - fast, easy and flexible
From now on our MAXImobil is available for you on the road! Take the opportunity for your events in the summer. Whether schools, kindergartens, clubs or private events, rent your dream bouncy castle in large or small from us.
Our carefree package is at your disposal. We deliver, set up, take down and we pick up Sei of course. Just contact us at Maxiland-Griesheim for our rentable inflatables for your summer fun!
Your bouncy castle for home in Darmstadt
A children's birthday party is coming up or you would like to rent a bouncy castle for another event in Darmstadt? Then you are exactly right with us. Indyou rent a bouncy castle from us, we will bring you the best of both worlds. our fun rental
MAXImobil our Maxiland
in small form to your home in Darmstadt.
You provide the event, we provide the bouncy castle in Darmstadt and surroundings
Whether you are planning a children's birthday party, the summer party at school or kindergarten is coming up or you want to set up a children's bouncy castle for the little guests at a company party, our MAXImobil is your bouncy castle rental in Darmstadt.
Bouncy castles are just the right attraction for parties that include children. Every child has fun jumping and romping. By renting a bouncy castle from us in Darmstadt, you ensure that even the little guests at your event will not get bored.
Rent a bouncy castle in Darmstadt as an all-round carefree package
When you use our bouncy castle rental in Darmstadt, you don't just get a bouncy castle delivered and then you have to deal with it yourself. No, our MAXImobil is the bouncy castle rental service that brings the rented bouncy castle to you in Darmstadt, sets it up at your location, and takes it down and picks it up after your event.
So conveniently and inexpensively, if you are interested in an inflatable, all you need to do is contact us. So by renting one of our inflatables, the work is done for you. Simple, isn't it?
Large and small bouncy castle for rent
If you decide to rent a bouncy castle from us in Darmstadt, you have the choice between our Dwarf Mushroom and our Jungle Active bouncy castle. Both excellent quality inflatables are equipped with a slide.
With the rental of our bouncy castles you also receive a play carpet and Lego bricks. This guarantees varied fun for the little ones at your party in Darmstadt and the surrounding area. Let children's eyes light up!
If you are interested in our Bouncy castlerental in Darmstadt rent a bouncy castle, you must make sure that there is always an adult supervising the castle.. On the one hand to control the number of children on the bouncy castle, on the other hand in case of in case of sudden rain disconnect the bouncy castle from the mains supply and and cover it with a rain cover.
When you rent a bouncy castle from MAXImobil in Darmstadt, you rent quality
When it comes to safety, we do not compromise. Our inflatables Dwarf Mushroom and Jungle Active meet the highest safety standards and are of excellent quality. In addition, hygiene is of course also a top priority for us. Before you rent a bouncy castle, it is of course thoroughly disinfected.
This way, you don't have to worry about anything when renting a bouncy castle and can simply look forward to the happy eyes of the children.